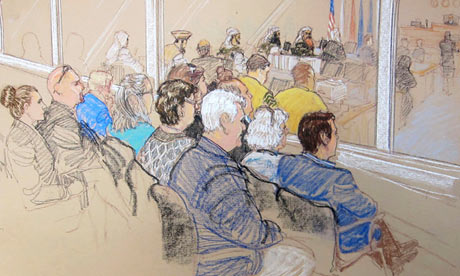 The battered credibility of the Guantánamo trials has been further dented by revelations of hidden microphones, intelligence service interference with court proceedings and protests from lawyers who say the US military is preventing a proper defence of the alleged organisers of the 9/11 attacks.
The increasingly chaotic pre-trial hearings for the alleged mastermind of the attacks on the World Trade Center, Khalid Sheikh Mohammed, and four co-accused have slowed progress toward the full trial, to the point where it will now not start until at least 2014. But the latest developments also further undermine confidence in a military court whose legitimacy has long been questioned.
In recent days, the commander of the Guantánamo prison, Colonel John Bogdan, was forced to admit on the witness stand that secret listening devices disguised as smoke detectors were installed in the cell where lawyers met their clients, and that he knew nothing about them.
The eavesdropping was revealed in court by one of the defence lawyers, Cheryl Bormann, who said she became suspicious about the supposed smoke detectors during a meeting with her client, Walid bin Atash, who is accused of training some of the 9/11 hijackers.
"I said, Mr Guard, is that a listening device, and he said, 'Of course not'," she said. "Well, guess what, judge? It's a listening device".
The prison's lawyer, Captain Thomas Welsh, told the court he discovered the room was fitted with hidden microphones early last year and reported it to the then warden, Colonel Donnie Thomas, to seek assurances that meetings between the accused and their lawyers were not being spied on.
Bogdan said he was not informed when he took over. He told the court that the FBI was in control of the room until 2008 and that he has since discovered that the bugs were accidentally disconnected in October during renovations but then secretly reconnected by an unnamed intelligence service two months later, suggesting they were still in use.
Bogdan denied that the microphones were eavesdropping on lawyers. "We understood that any listening to an attorney-client meeting is prohibited," he said.
But Daphne Eviatar, senior counsel at Human Rights First who was an observer at the recent pre-trial hearings, questioned whether Bogdan could give that assurance when he claimed not to know about the bugs until recently.
"The commander of the base himself didn't even know that the cells where the attorneys are allowed to interview their clients are all bugged. They all have audio surveillance equipment. That equipment is controlled by the intelligence agencies not the commander of the base. It's not clear who knows what about how it was being used," she said.
Send to Kindle